King of the River: JP Bowles and the Gorge Photos
by
Graham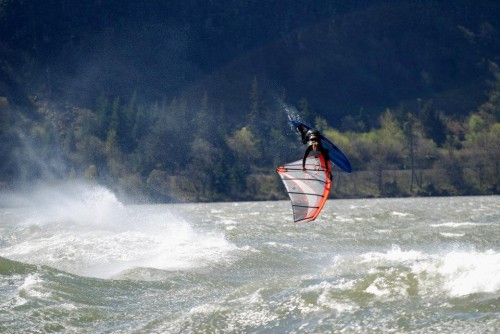 JP Bowles rips. Period. He is the star of the best Gorge windsurfing photos I have ever seen. As The Gorge is the mecca of North American windsurfing, this is quite an accomplishment. The Gorge is a river with wind and waves in the middle of the Pacific Northwest, and every summer windsurfers drive and fly from all over the continent to get an annual dose of those healing waters. But the vapors aren't from springs; they rise off the water from the howling winds!
A surfer who counts the number of barrels he gets each winter, JP seems a misfit for the gorge. After all, he is a self-described "ocean guy". But that doesn't mean he doesn't rip up the river like crazy. Over the last year a few photos of him have surfaced that are simply spectacular, holding within them emotion and energy. A thanks needs to go to the photographer, Trudy Lary. Thanks Trudy. These photos are amazing.
I had seen JP around (windsurfing circles are small) but never got a chance to really meet him. So, I did a small interview to shed some light on the man in the air.
Graham:
Give the world a little background about you. Where you're from. What you do. Etc.
JP:
Hmmmm… About me…….
I grew up in Mt. Shasta Northern California. I literally grew up on the mountain as a youth. Skiing and snowboarding every day, racing and teaching skiing. I was pretty hooked.
I tried to master every snow sliding device I could get my hands on. Straight skis, Sidecut skis, telemark skis, Bigfoot skis, boot skiing, lunch trays from the cafeteria, snowboards of every shape and size. A couple of years were spent addicted to race snowboards and hard boots and laying down super silly G force turns. I was riding every day and getting instruction from some Olympic hopefuls at the time.
My winters were pretty cool. I was constantly learning about the smallest most trivial aspects of drawing lines in the snow. More importantly, I was learning about how the community around me lived. I soon figured out who my heroes were, the people I respected and looked up to. The healthiest, happiest people on the planet.
Shasta is a hippy mountain town. I saw all these people living, no ego, no grandiose plans of grandeur, just living……… Not looking for the almighty dollar but people just living simple happy lives. I always looked up to the seasonal crew chasing their dreams. Winters on the mountain summers on the rivers. Poor by any yuppies standards, but as rich as one could possibly be by any real life standards.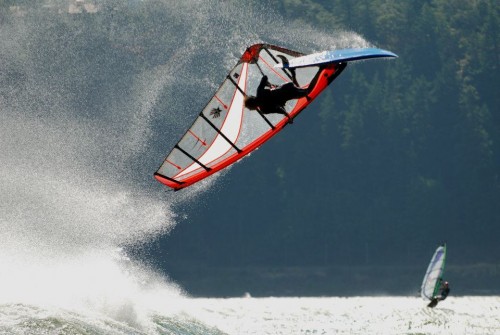 This model that I witnessed growing up set the tone for me later in life. Working 9-5 with two weeks off a year so that I could fill up a bank account and spend money on crap just didn't seem to hold much for me.
My family and I learned to windsurf when I was 9 or 10. We got a book Zen and the Art of Windsurfing…. A really good beginner book by the way. And we spent many a summer day down by the lake trying to figure out what we were doing with the worst possibly winds ever. It was sooooo fun.
I spent 4 years up hauling and cruising the lake. Eventually, we all learned how to waterstart, like 5 years later. We all got smaller and smaller boards and started chasing wind. Well, I was full on hooked.
As soon as I graduated high school I moved straight to the gorge. Lived out of my car for my first summer and worked for Big winds. That fall I went to school for mechanical engineering. I really wanted to build skis at the time and figured an ME degree was my ticket.
Well, I graduated from the Oregon Institute of Technology with my ME degree but my dreams of building skis had vanished. I WANTED TO WINDSURF….. So after 4 or 5 summers in the gorge. I was Maui bound.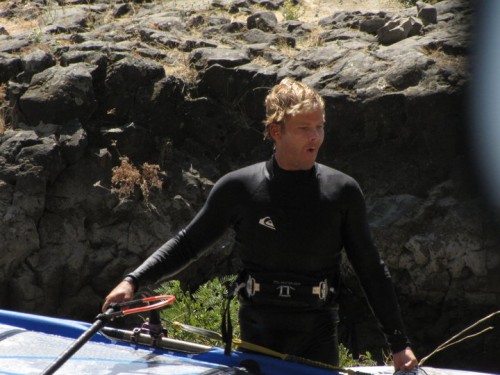 I lived on Maui for 3 seasons. I sailed Kuau mostly probably about 80 percent with about 10 percent at Hookipa and 10 percent at Kanaha. I worked for Ralph Sifford at Second Wind Maui for those 3 years. Surfed and Windsurfed my ass off over there. Ralph was my north shore mentor. He was always letting me know where I should go for what swell and what wind. He had the island dialed. Surprised I never drowned over there listening to his directions. But Ralph was the man. Towing jaws, paddling outer reefs, the ugliest most consistent back loop on the planet.
My Maui winters were pretty epic, followed by gorge summers. To this day Jake the Snake Miller claims the biggest day he has ever sailed Maui was with me at upper Kanaha. Double mast plus, Triple mast?
I probably would have been going back to Maui forever but…..I broke my foot in Maui in the spring. It was really really slow to heal. I had zero strength in my feet. I had to kite all summer in the gorge. Windsurfing hurt. When fall rolled around I realized Maui was out and I should do something a little less extreme and get my body in tune.
That winter I took the winter off and went to Panama and Costa rica for an extended surf vacation. I felt a little guilty at the time for taking a winter off but… I haven't worked a winter since.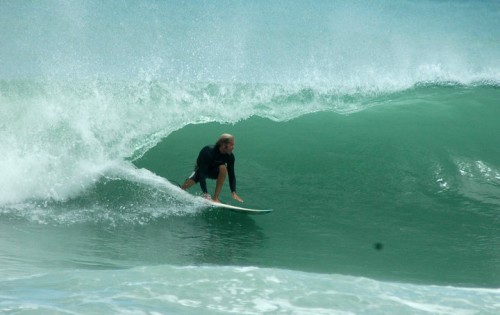 The next winter I spent in Baja. And the next winter in Baja and Mainland mex. I think I'm up to 6 or 7 Baja winters chasing wind and waves. I've got the Baja pretty dialed. There is some really good winter wavesailing down there and I average well over 50 barrels a winter.
Every summer I'm back in the gorge though. Gorge summers are pretty classic. I wait tables at an underground Italian restaurant North Oak Brasserie. I also wait tables at a steakhouse in the woods Stonehedge gardens. And if you got a boom that needs to be re-gripped, I'm the boom Dr. These all allow me plenty of time on the water.
Graham:
Windsurfing is a huge part of your life then. I dare to say it is somewhere near the center. What then do you think about when you go out for a windsurfing session?
JP:
It kinda depends on conditions and who is out. If I'm sailing solo or with a bunch of old guys I try to just have fun and enjoy. If there is some talent on the water I try to push it a little, go a little bigger sail a little faster.
If I show up and it's full on. I'm usually frothing and not thinking at all. Rig as fast as possible and get on it. Not to much thinking involved.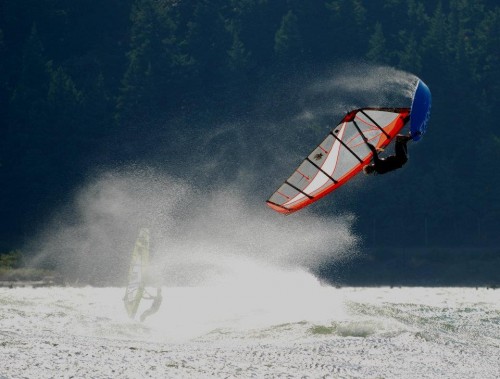 Graham:
I know the feeling! You spend so much time in The Gorge, what do you like most about riding the river?
JP:
The river is a bit of a love hate. I'm an ocean guy. I love the ocean, I love the power of the waves. The river can be a little flat and disappointing at times. That being said the gorge has it's days.
When you get some smooth rollers out east, I love swell ridding. I really like trying to draw surfy lines on mellow open rollers. Trying to find the power and flow out of a mellow gorge swell is way different than the ocean but there are still lips to hit and smooth turns and slides and style to be had. Swell riding is definitely what I enjoy most about riding the river.
The jumping is pretty good, and always a crowd favorite, but for me it's drawing lines in the water and not in the air. Also the gorge is really consistent in the summer. That's huge.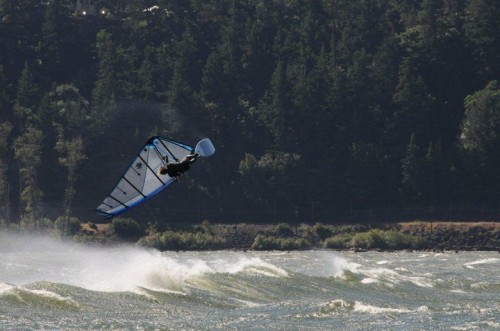 Graham:
You have a true surf mentality. But your jumps also really stand out and are incredibly photogenic. What goes through your head when you launch into an air?
JP:
It depends on the ramp, wind, crowd etc etc…. There is usually a lot going on in my head pre jump. But I think the loudest voices going into a ramp are usually don't break your board.
I had a few years where I couldn't stop breaking boards. Windsurf boards are not cheap. I came to a point where it was either quite windsurfing and just kite or alter my sailing a lot. It was touch and go for a while there, I was sooo pissed at my windsurfing boards that I almost just went to the dark side. I ended up altering my sailing, basically no forward loops or flat landings period. I still sneak a forward in here and there but I make sure I land it on the tail. Big planning forewards are the bomb, but I'm grounded from those.
And if it's really big and windy my thoughts turn to don't break yourself.
Graham:
I know the feeling! It still looks like you charge pretty hard. And finally, I've gotta ask: Why do you windsurf? What keeps you coming back to the board and sail?
JP:
FOR FREEDOM…….. If conditions are epic nothing else matters. Windsurfing has the power to literally clear the mind.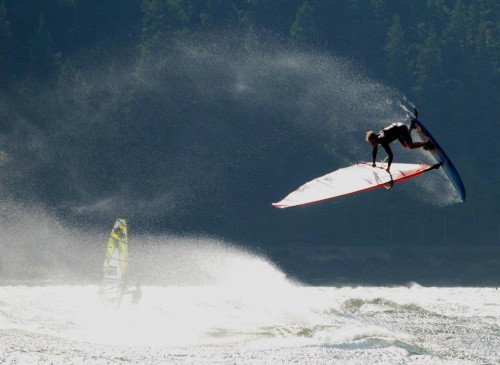 Thank you JP! I hope to see you on the water at some point soon. If you want to see some sequences of JP's Baja waveriding action, click on the photos here to see the sequences.